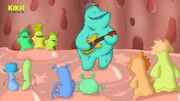 Toots & The Germettes are bunch of cold causing germs who are making people sick by playing guitars & singing. They appeared in two episodes of the Curious George TV series. Toots was voiced by Kevin Michael Richardson. In their 2nd appearance, they get washed down the drain in a sink. It's not likely they'll return.
Appearances
Ad blocker interference detected!
Wikia is a free-to-use site that makes money from advertising. We have a modified experience for viewers using ad blockers

Wikia is not accessible if you've made further modifications. Remove the custom ad blocker rule(s) and the page will load as expected.