The City's 1 of the only 2 major areas throughout the Curious George universe (other than minor areas such as Hawaii & Sydney). The City's a fictional city adjacent to The Country that resembles New York City & possibly even Chicago.
Little specific information's given on the layout of The City, with the exception of a few maps which either show only a certain neighborhood of the municipality or are very general. This includes a map of a subway line & a bus map that show the area surrounding the Glass Palace & the Library.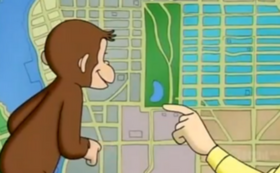 Known Sub-Areas
The City Gallery
Ad blocker interference detected!
Wikia is a free-to-use site that makes money from advertising. We have a modified experience for viewers using ad blockers

Wikia is not accessible if you've made further modifications. Remove the custom ad blocker rule(s) and the page will load as expected.