Mr. Reloj is a minor character in the children's television series Curious George. He is voiced by Rob Paulsen.
Appearance
Mr. Reloj is a stocky Hispanic man with little hair and a large mustache. He wears a formal white shirt under a purple vest, a yellow tie, black pants, and carries multiple watches at all times.
Personality
Mr. Reloj owns a clock store and knows everything about them, making him the first one who is asked to fix a clock. He walks very fast, but extremely slow.
Trivia
-His name is the Spanish word for "clock".
Gallery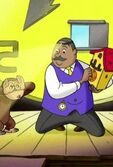 Ad blocker interference detected!
Wikia is a free-to-use site that makes money from advertising. We have a modified experience for viewers using ad blockers

Wikia is not accessible if you've made further modifications. Remove the custom ad blocker rule(s) and the page will load as expected.