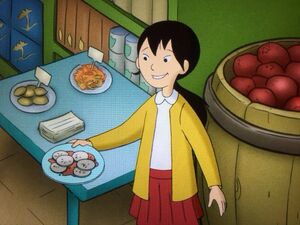 Mei's a minor character in the TV Series Curious George.
Role
Mei's the Vietnamese daughter of Huin Kuan An (father), & Hoa (mother). They own the Hoa Mai Grocery & Takeout.
Physical Appearance
Mei has long black hair held by a black scrunchie. She wears a long light yellow coat that reaches her thighs over a white collared blouse, a dark red skirt with trimmings, white socks, & black shoes.
Trivia
Mei Gallery
Ad blocker interference detected!
Wikia is a free-to-use site that makes money from advertising. We have a modified experience for viewers using ad blockers

Wikia is not accessible if you've made further modifications. Remove the custom ad blocker rule(s) and the page will load as expected.