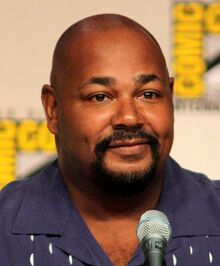 Kevin Michael Richardson (born October 25, 1964) is an American voice actor who has portrayed a multitude of characters in various animated series and video games. He is known for his extremely deep, villainous voice and has been playing a wide variety of characters since the early 1990s. Among his many voice roles are Chairman Drek in the video game Ratchet & Clank, Tartarus in the video game Halo 2, Robert Hawkins in Static Shock, Kilowog in Green Lantern: The Animated Series, Trigon in Teen Titans and Teen Titans Go!, Captain Gantu in Lilo & Stitch, Bulkhead in Transformers Prime, Antauri in Super Robot Monkey Team Hyperforce Go!, Cleveland Brown, Jr. in The Cleveland Show, Principal Brian Lewis in American Dad!, The Shredder in the 2012 incarnation of the Teenage Mutant Ninja Turtles, Dark Laser on The Fairly OddParents, Mr. Gus in Uncle Grandpa, Happy in The 7D, Crusher in Blaze and the Monster Machines , Maurice in "All Hail King Julien" , and many others.
Ad blocker interference detected!
Wikia is a free-to-use site that makes money from advertising. We have a modified experience for viewers using ad blockers

Wikia is not accessible if you've made further modifications. Remove the custom ad blocker rule(s) and the page will load as expected.