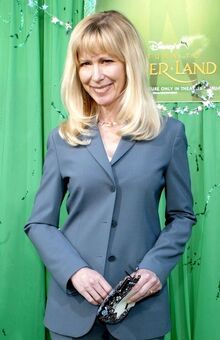 Kath Soucie (/ˈsuːsi/) is an American actress, most active in voice overs. Her roles include Janine Melnitz in The Real Ghostbusters, Ingrid "Minx" Kruger in Jem, Cindy Bear in the Hanna-Barbera shows Wake, Rattle, and Roll and Yo Yogi!, Sally and Shock in The Nightmare Before Christmas, Fifi La Fume in Tiny Toon Adventures, Dexter's Mom in Dexter's Laboratory, Linka in Captain Planet and the Planeteers, Phil, Lil and Betty DeVille in Rugrats, Lola Bunny in Space Jam Princess Marie in Disney's Adventures of Gummi Bears and Ray Ray Lee in The Life and Times of Juniper Lee.[1]
Filmography
Anime Roles
Attack Of The Killer Tomatoes:The Animated Series-Tara Boumdeay
Ad blocker interference detected!
Wikia is a free-to-use site that makes money from advertising. We have a modified experience for viewers using ad blockers

Wikia is not accessible if you've made further modifications. Remove the custom ad blocker rule(s) and the page will load as expected.