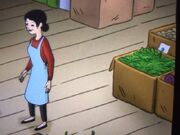 Hoa is a minor character in the TV Series Curious George. She is the eldest daughter of the EVIL Chef Gaston and Eldest niece to the EVIL side kick LaFou. She wears a nice casual red winter sweater, and blue jeans. They keep her beautiful, petite, tight body warm in the winter times. They also allow her to get her sweat on in the kitchen. That is why she is fit. You should try fatso the clown bwhahahhaha. She has beautiful soft, pale, white skin. She tries to be nice but her father's bad influences take over sometimes. That is why she has duo personalities. She sometimes is a nice woman but other times she is a scoundrel! She becomes a poacher butcher! She poaches and butches animals and feeds them to her customers. George is on her list but she can never catch him. Without killing him she cannot move on to the rare golden cockatoo! Curse you George the tailless monkey boy!
Ad blocker interference detected!
Wikia is a free-to-use site that makes money from advertising. We have a modified experience for viewers using ad blockers

Wikia is not accessible if you've made further modifications. Remove the custom ad blocker rule(s) and the page will load as expected.