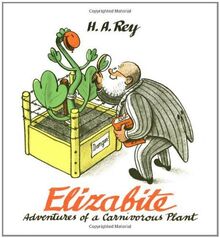 Elizabite is a carnivorous plant who eats insects as appetizers and enjoys hotdogs for snacks. Whether it walks, talks, flies, or barks, Elizabite is ready to make a meal of it. Her cheerful, hungry smile and infinite appetite attract much attention - a scientist examines her, a professor studies her, and everyone agrees that she is one of a kind. In an effort to control her diet and her unpredictable temper, Elizabite's admirers chain and muzzle her. But not even a barbed wire fence can prevent her from following her heart's (and stomach's) desire! Only when her unique appetite prevents a crime does Elizabite win the respect she deserves. 
Ad blocker interference detected!
Wikia is a free-to-use site that makes money from advertising. We have a modified experience for viewers using ad blockers

Wikia is not accessible if you've made further modifications. Remove the custom ad blocker rule(s) and the page will load as expected.