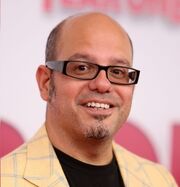 Cross was born in Atlanta, Georgia on April 4, 1964, the son of Barry and Susi, the former of whom emigrated from Leeds, England.[4] Six months after his birth, Cross' family moved to Florida. After additional moves to New York and Connecticut, the family settled back in Roswell, Georgia, where Cross remained for nearly a decade. His family was poor and Barry left the family when Cross was 10 years old; the two have not spoken since he was 19, though they both primarily resided in New York City until Cross sold his home there in 2011.[5] Cross and his family were evicted from their home while living in Georgia. He spent some time living in motels and at friends' homes while growing up.[6] He has two sisters and once bailed his youngest sibling out of jail.[7] In 1990, a new comedy scene began to emerge at the famous comedy club chain called Catch a Rising Star (where many of the comedians of the 1970s and 1980s got their start). Alongside Janeane Garofalo, Louis C.K., and other comics, Cross appeared regularly several nights a week. Cross formed the sketch comedy group "Cross Comedy" with 12 other performers, and they put on a new show every week. They were known for playing tricks on the audience, such as introducing fake comics or planting fake hecklers. Cross became increasingly focused on his comedy work.[8] Cross performed at the alternative comedy club Un-Cabaret in Los Angeles. David Cross performed the voice of Junior in Curious George.
Ad blocker interference detected!
Wikia is a free-to-use site that makes money from advertising. We have a modified experience for viewers using ad blockers

Wikia is not accessible if you've made further modifications. Remove the custom ad blocker rule(s) and the page will load as expected.