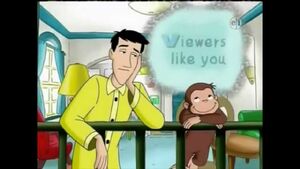 This program was made possible by
At ABCmouse.com, we believe that learning and curiousity go hand in hand. ABCmouse.com Early Learning Academy. Proud sponsor of PBS Kids and Curious George
Fun for everyone makes a family strong. Chuck E. Cheeses proudly supports PBS Kids
For over 90 years, Stride Rite's been there. From the 1st wobbly walk to the 1st day of school. Helping you choose the right shoes. Stride Rite. Through every step. Stride Rite is a proud sponsor of Curious George
Curious George is made possible by Viewers Like You.
Funding:
Sheahomes (2006-2008)
Chuck E Cheese's (2008-present)
Rainforest Cafe (2009-2011)
Sun Maid Raisins (2008-2010)
Amazon.com Grocery (2008)
Stride Rite (2011-present)
ABCMouse.com (2012-present)
Contributions to your PBS Station from Viewers Like You (2006-present)
Geico (2013-present)
Zithromax (2015-present)
Ad blocker interference detected!
Wikia is a free-to-use site that makes money from advertising. We have a modified experience for viewers using ad blockers

Wikia is not accessible if you've made further modifications. Remove the custom ad blocker rule(s) and the page will load as expected.