Curious George Discovers the Poles
George has gone to his favorite country place, Lake Wanasinklake, where he finds Bill fishing in the lagoon. Bill has caught not fish, but tadpoles & he asks George to look after them as they grow up because "they do some amazing things". But when George figures they are growing tired of the same, small fishbowl, he decides to release them into the lagoon. Later he tries to do anything to get them back but only catches a small green creature which isn't 1 of his tadpoles. Or is it?....
Curious George Finds His Way
George has to stay with Hundley in the lobby as the apartment gets cleaned but Hundley doesn't want George to eat his messy snack in the lobby. After George & Hundley get locked out in the alley behind the apartment building, Hundley runs off trying to find a better way in. George follows him & they eventually meet in a place very far away from home. They decide that, since it is dark out & they can't see their way home, they can hear their way home instead.
Trivia
Curious George Discovers the Poles Gallery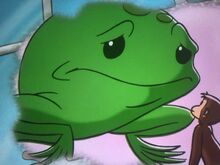 Curious George Finds His Way Gallery
Ad blocker interference detected!
Wikia is a free-to-use site that makes money from advertising. We have a modified experience for viewers using ad blockers

Wikia is not accessible if you've made further modifications. Remove the custom ad blocker rule(s) and the page will load as expected.