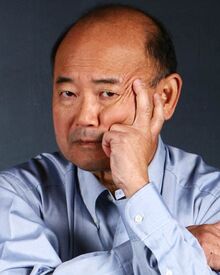 Kusatsu was born on September 13, 1948 in Honolulu, Hawaii, where he also grew up. He attended the 'Iolani School. Kusatsu began acting in Honolulu summer stock, and after studying theatre at Northwestern University, started to make his mark on the small screen in the mid-1970s. With his quiet, wry line delivery, Kusatsu made a memorably clever and hilarious sparring partner for Archie Bunker (Carroll O'Connor) on several episodes of All in the Family as the Reverend Chong, refusing to baptize Archie's grandson without the permission of the boy's parents. During this period Kusatsu also worked with the Asian American theatre group East West Players in Los Angeles.
Kusatsu was subsequently a regular on several series, but neither the adventure Bring 'Em Back Alive[1] (1982–83) nor the Hawaiian-set medical drama Island Son (1989–90) (in which he played one of Richard Chamberlain's colleagues) lasted very long. His many television movies have included the film adaptation of Farewell to Manzanar (1976), about Japanese American internment during World War II. (Kusatsu also guest-starred on an episode of Lou Grant on Japanese internment in the U.S.); Other television films and mini-series have been "And The Sea Will Tell", and "American Tragedy" playing Judge Lance Ito. He had a memorable role in the "Baa Baa Black Sheep" episode "Prisoners of War" as a downed Japanese fighter pilot in the Pacific (1976); Golden Land (1988), a Hollywood-set drama based on a William Faulkner story; and the AIDS drama And the Band Played On (1993). Kustatsu also made several guest appearances on Star Trek: The Next Generation as Starfleet Vice Admiral Nakamura, appeared in four M*A*S*H episodes, the Rockford Files episode "New Life Old Dragons" in 1977 and later starred in the short-lived A.B.C. series All American Girl (1994–1995), the first Asian American family sitcom in the U.S. He also guest starred in several episodes of the 1990s ABC situation comedy Family Matters as Principal Shimata, the usual foil of that series' main protagonist Steve Urkel.
Ad blocker interference detected!
Wikia is a free-to-use site that makes money from advertising. We have a modified experience for viewers using ad blockers

Wikia is not accessible if you've made further modifications. Remove the custom ad blocker rule(s) and the page will load as expected.