Cecily.G and the Nine Monkeys was a book first published in 1939 and marked the first appearance of Curious George.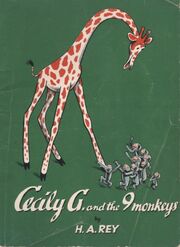 Plot
The story is about Cecily.G, she is sad about the loss of the other animals who were captured in put into a zoo. Curious George is the first monkey to introduce a rescuer. Later in the story a fire occurs at Cecily Giraffe's house and the monkeys work together as a team to put out the fire. In the end Cecily Giraffe and the Nine Monkeys become friends. One of the monkeys James writes a song in Cecily's honor.
Facts
The book was released in 1942 in US however the publication date was in 1939.
In Europe Cecily Giraffe's name was Rafi
Ad blocker interference detected!
Wikia is a free-to-use site that makes money from advertising. We have a modified experience for viewers using ad blockers

Wikia is not accessible if you've made further modifications. Remove the custom ad blocker rule(s) and the page will load as expected.