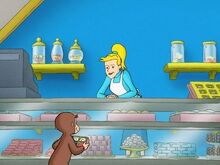 Cayley owns a Cayley's Candy in Mabel's department store in New York City. She once let George run the counter, accidentally making it more popular. She appears in Candy Counter. Cayley was voiced by Kari Wahlgren.
Ad blocker interference detected!
Wikia is a free-to-use site that makes money from advertising. We have a modified experience for viewers using ad blockers

Wikia is not accessible if you've made further modifications. Remove the custom ad blocker rule(s) and the page will load as expected.