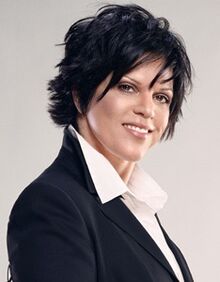 April Winchell Foley (born January 4, 1960) is an American actor, writer, talk radio host, commentator, voice actor, and comedian.
April Winchell is the daughter of Paul Winchell.
Winchell's current projects include the role of Sylvia in Wander Over Yonder, a Disney animated series featuring Jack McBrayer in the title role. Created by The Powerpuff Girlsproducers Craig McCracken and Lauren Faust, the show chronicles the adventures of "Wander" and his trusty (and cynical) steed Sylvia, as they travel the universe. The program premiered on the Disney Channel in September 2013.
As a voice actor, she has been heard in hundreds of animated television programs, such as Goof Troop (Peg Pete), Robot and Monster, Phineas & Ferb, Pucca, Kim Possible, Recess, Disney's House of Mouse and Mickey Mouse Clubhouse (as Clarabelle Cow), Bonkers (as Lucky's wife, Dyl Piquel), Pepper Ann (as Pepper Ann's mom, Lydia Pearson),[3] The Legend of Tarzan (taking over for Rosie O'Donnell as Terk) and 101 Dalmatians: The Series (as Cruella De Vil), SWAT Kats: The Radical Squadron (as Molly Mange). She has also voiced roles in numerous films, including Antz, Who Framed Roger Rabbit,[1] Monsters University and Rob Zombie's The Haunted World of El Superbeasto, and Kids from Room 402 (as Miss Gracie Graves the School teacher, along with a number of other characters that appear on the show). Winchell portrayed the "Glendale Federal Bank" lady – a cranky, cynical customer mollified by the service at her new bank – in a series of highly successful radio commercials, which Winchell wrote and directed herself. The commercials caught the attention of Roseanne, who hired her as a writer on her eponymous sitcom.[1] She was also tested for the part of Regan in the Exorcist until she fell ill and was taken out of consideration.[4]
Ad blocker interference detected!
Wikia is a free-to-use site that makes money from advertising. We have a modified experience for viewers using ad blockers

Wikia is not accessible if you've made further modifications. Remove the custom ad blocker rule(s) and the page will load as expected.